I've decided to show the creation of this little mermaid, almost step by step. I could have taken a pic of the wire armature, but forgot, so you'll have to use your imagination. It's pretty easy to do...just look at the rudimentary shape of the mermaid, and you can pretty much visualize the twisting of the wire beneath. Anyhow, that's how you begin. Shape the wire in whichever way you choose, and then ball up newspaper and wrap and twist it around the wire and tape with masking tape to get a basic shape. I've also cut out the shape that I would like the tail to be and taped it on.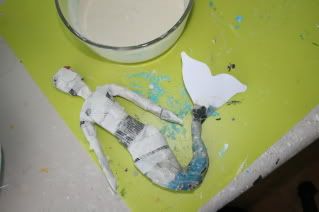 From there, I make my flour and water paste (no recipe, just mix it till it's nice and gooey) and use newspaper strips and cover many, many layers until it becomes quite strong.


I've let it dry and now it's time to start adding some detail! I add detail with my homemade paper pulp which is made up of flour, water, and cheap toilet paper! There are many recipes online for paper pulp, all you have to do is tweek it and make it your own :)


From there, I cut up lots of tiny strips of tissue paper and use a paint brush to 'paint' them on using the flour and water mixture I used to apply the newspaper strips.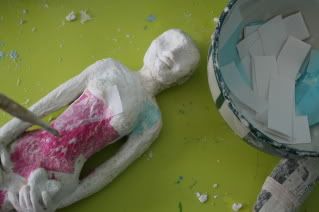 Finally...I painted her, varnished, added hair, and attached beaded wire for hanging :)